Top Twenty Horse Books for Children
Some children go through a stage of wanting to be a pirate, others a fairy, some a dinosaur. Many young ones want to ride horses at some point and dream of owning and grooming their own horse. I was lucky enough to grow up with grandparents who had a farm and an aunt who was one of Australia's best western riders and saddlers, and who has now so very sadly passed away – we miss you everyday Susie. So I got to live the 'horse dream' and most weekends my siblings and I would trot around exploring the farm on Little Red, Smokey or if we were really lucky, Misty Blue Bars.
If you have a little one who loves a horse book or twenty…my favourites are below. The range from books for early childhood to lower primary readers to books for young adults and adults (you simply must read 'Warhorse'). I've listed them in vauge age order from youngest titles up. In late 2018 this post was updated to include some new favourites – most especially 'Spud and Charlie' by Samantha Wheeler which is Pud's favourite. Below is a shot of Pud with Sam Wheeler's horse – the best authors own horses apparently.
To add these books to your home, school or library collection click on titles or cover images. 
'Noni the Pony' and the new 'Noni the Pony Goes to the Beach', written and illustrated by Alison Lester. Ages 1+. Anything this woman produces is great and these two are no exception. Noni the Pony is the the nicest pony you could ever meet and these are purely delightful rhyming story for young children. Noni the Pony is friendly and funny. She loves going down to the beach when it's sunny. With her two very best friends Dave Dog and Coco the Cat, and the cows from next door, it's going to be a wonderful day. Alison Lester's books are favourites with children and adults around the world.
'That's Not My Pony' written by Fiona Watt and ilillustrated by Rachel Wells. Ages 1+. My profuse apology to these books is here. 
'Rosie's Magic Horse' written by Russell Hoban and illustrated by Quentin Blake. Ages 3+. This story begins with an ice-lolly stick. Its sweetness gone, it lies discarded and lonely until a little girl called Rosie comes along. She places it carefully in her cigar box, full of other sticks. Without our ice-lollies we are nothing, says an old stick. But new stick wants to BE something and into the minds of all the old sticks, he plants dreams maybe they can be something, too. What about Rosie and her dreams that night? She dreams of helping her parents pay the bills. And so, at the stroke of midnight, magic and dreams collide and a HORSE gallops out of the cigar box! His name is Stickerino. Where to? he asks Rosie. Anywhere with treasure! she answers and hops on its back. Then begins an adventure like no other ice-lolly mountains by the sea, caskets of gold, and pirates foiled by a stickling ice-cream van.
'Hello, Horse' written by Vivian French and illustrated by Catherine Rayner. Age 5+. This new (2018) title is part of the Nature Storybook series which I absolutely love – a blend of fictional narrative and nonfiction text in one easy to access format. Hello, Horse gently introduces young children to Shannon, a friendly bay mare, and offers encouragement to those unfamiliar with or a little nervous of these large, beautiful creatures. The subtext is packed with practical tips, such as the right way to offer a carrot, and also covers their behaviour – horses' need for company, for example. Tender words and art combine to create a warm and witty introduction to horses … from the safety of the page!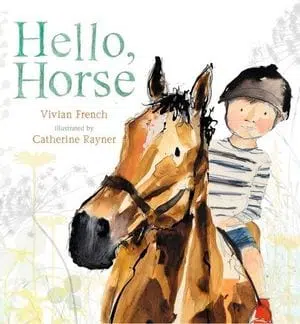 'Jerry' written by Ursula Dubosarsky and illustrated by Patricia Mullins. Ages 5+. I have read 'Jerry' so.many.times and yet I still get misty eyed each time at its beauty. For Martha there is something strange and almost magical about a white horse, even an old one like Jerry. I love, love, love Aussie Nibble books like this one for readers just starting their journey on chapter books. You can read more about them here.
'Hiding that Horse' written by David Metzenthen and illustrated by Leigh Hobbs. Ages 5+. I love, love, love Aussie Nibble books like this one for readers just starting their journey on chapter books. You can read more about them here. Hiding a horse, even a very small one, isn't easy. Tim and Mr Conroy have to use all their wits to keep little Percy from being caught by horse-hating Ranger Dooley!
'The Wish Pony' by Catherine Bateson. Ages 6+. Though not entirely about horses, this classically heartwarming story perfectly captures the everyday life and the magic of childhood. Ruby's mum is having a baby, but why does she need one of those when she's already got a Ruby? To make matters worse, her best friend Sarah has just found another, better friend. It seems like everyone is abandoning her. But when Ruby meets the mysterious Magda, who gives her a very special gift of a little glass horse, that might, just might, even be a bit magical, everything begins to change.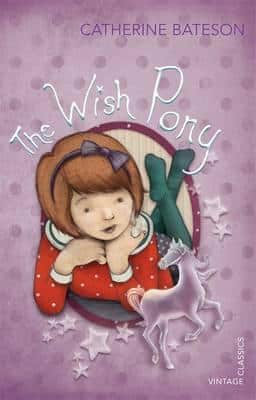 'Horse Crazy: The Complete Adventures of Bonnie and Sam' written by Alison Lester and illustrated by Roland Harvey. Ages 7+. This is a bind up chapter book of four 'Bonnie and Sam' stories by two of Australia's most talented creators of books for children. Alison Lestor owns horses and there is nothing better than a horse book written by a horse owner – cannot beat them. Main characters, Bonnie and Sam are best friends. No one loves horses the way they do. When Bonnie whispers to them, they understand, and Sam always knows if they need a drink, or a hug, or a race around the paddock. Come along with Bonnie and Sam on four great adventures: The Shadow Brumby, The Circus Pony, Racing the Tide and Saving Mr Pinto.
'Spud and Charlie' written by Samantha Wheeler. Ages 8+. Sam has a deep love for horses herself, and this shines through in this book, which is just perfect for horse loving tweens.  Charli is at riding camp, where her dream is about to come true – she will finally learn to ride a real, live horse. But when show-off Mikaela picks the horse Charli wants, her heart bungees to her toes. Instead of the beautiful palomino Razz, Charli's stuck riding the massive retired racehorse Spud. And what about the bats that fill the night sky? Don't bats spread deadly diseases? Riding camp isn't turning out the way Charli planned, especially when she finds herself in the middle of a life-threatening disaster.
'Do You Dare? The Last Horse Race' written by James Moloney. Ages 8+. From popular author, James Moloney, comes this gripping story, set in early Brisbane about a boy trying to escape his past. I really love these 'Do You Dare?' books, which are sort of the 'male' equivalent of the 'Our Australian Girl' series which you can read about here. In this one 'Do You Dare'. . .Stick up for your mates? Ride a horse at breakneck speed? Risk your life for freedom? It's an adventure in history. Do You Dare?
'Midnight' written by Mark Greenwood and illustrated by Frane Lessac. Ages 8+. A new narrative nonfiction picture book from an award-winning duo. A foal is born at midnight, on the homestead side of the river. Coal black. Star ablaze. Moonlight in her eyes. On October 31, 1917, the 4th and 12th Regiments of the Australian Light Horse took part in one of the last great cavalry charges in history. Among the first to leap the enemy trenches was Lieutenant Guy Haydon riding his beloved mare, Midnight. This is their story.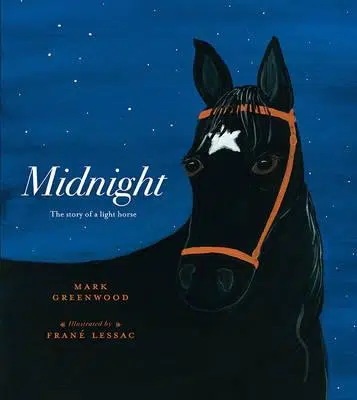 'Lightning Jack' written by Glenda Millard and illustrated by Patricia Mullins. Ages 8+. This is a truly stunning picture book…from the lyrical, ballad style text to the breathtaking illustrations. Sam Tully eyed the brumbies at the muster in the park and among them as they galloped he saw one that stood apart; a stallion, black as midnight, on his brow a jagged blaze. A gallant horse, a midnight horse; a horse called Lightning Jack. When Sam Tully sees the free spirited horse Lightning Jack, he dares to ride him. Together they muster a herd of steers into their stable, escape a grazier's deal and fly into the air with Pegasus wings. Then when they are ambushed by the notorious outlaw Ned Kelly, Lightning Jack leaps out of trouble and back to the wilderness. But then Sam can't resist a race and rides Lightning Jack against the ghost of Phar Lap at breakneck speed …Sam's horse is a gallant horse, a midnight horse, a horse in every dream.
'Phar Lap The Wonder Horse' written by Jackie Kerin and illustrated by Patricia Mullins. Ages 8+. The story of Phar Lap is known and loved by people of all ages. In this version for children, written by Jackie Kerin, his story is told in the form of a ballad, evoking the magic and charm of traditional storytelling. Illustrated with the vivid pictures of award-winning artist Patricia Mullins, this is a beautiful introduction to the true legend of Phar Lap the wonder horse.
'My Australian Story: The Phar Lap Mystery' written by Sophie Masson. Ages 8+. I love this 'My Australian Story series and this one is no exception. Without a doubt, it's an iconic Australian story. Phar Lap is not only a winner, he is a real star. Millions of Australians love him. But that's not enough for Mr Davis. He wants to make Big Red into a world star. Sally's dad is a private detective, and he's just been offered the case of a lifetime-investigating who tried to shoot Phar Lap before the 1930 Melbourne Cup. Helping her dad investigate, Sally begins to feel a sense of mounting dread as Phar Lap goes from victory to victory-and collects not only millions of friends, but also some dangerous enemies.
'Animal Stars: The Horse Who Bit a Bushranger' written by Jackie French. Ages 8+. I can honestly say that I have learnt more about Australian history reading Jackie French than in all my years at school. this one is a story of survival, second chances…and a dance with danger. Young Billy Marks is a pickpocket, transported to the penal colony of New South Wales. He and his mate reckon they'll become bushrangers- but that's before Billy's had a chance to see the bush up close. And when he buys the big white brumby stallion, covered with scars but refusing to bend to any man's will, he knows he made the right choice. Billy's daughter Mattie Jane thinks her father can ride any horse who ever lived … and so can she! But when tragedy strikes, the Marks clan, including Mattie and her beloved horse, Rebel Yell, will need all the courage they can find to keep the family together.
The deeds and disputed stories of Jackie French's own ancestors inspire another novel – a novel of proud and gutsy horses, trailblazing farmers and their resilient wives, and desperate men forced to break the law to survive.
'The Quicksand Pony' and 'The Snow Pony' written by Alison Lester. Ages 9+. A horsewoman herself, so completely qualified to 'talk the talk' these two books are gripping horseback adventures, set in the rugged yet romantic Australian coastal bush. I read these books so long ago and yet I still remember them like it was yesterday; truly the mark of a great story!
'The Quicksand Pony': 'Biddy, I'm sorry, we're going to have to leave her.' 'What?' Biddy struggled out of the quicksand. 'You can't leave her! The tide's coming in. She'll drown!' But the pony is trapped and Biddy is forced to go on without her. Next day the only signs of Bella are hoofprints in the sand…with small footprints and the paw marks of a dog. Who could be so small and be alone on this remote beach?
Biddy's search takes her into wild secret country where she discovers the truth about a mysterious disappearance that happened many years ago.
'The Snow Pony': Only Dusty can ride the wild Snow Pony and no one but Dusty will trust her. Three years of drought have reduced the Riley's farm to a dirt patch and strained the family to breaking point. A trip to the mountains to muster their cattle promises a fresh start, but sudden violence erupts into the peaceful landscape. Now Dusty and her beautiful brumby are tested as never before.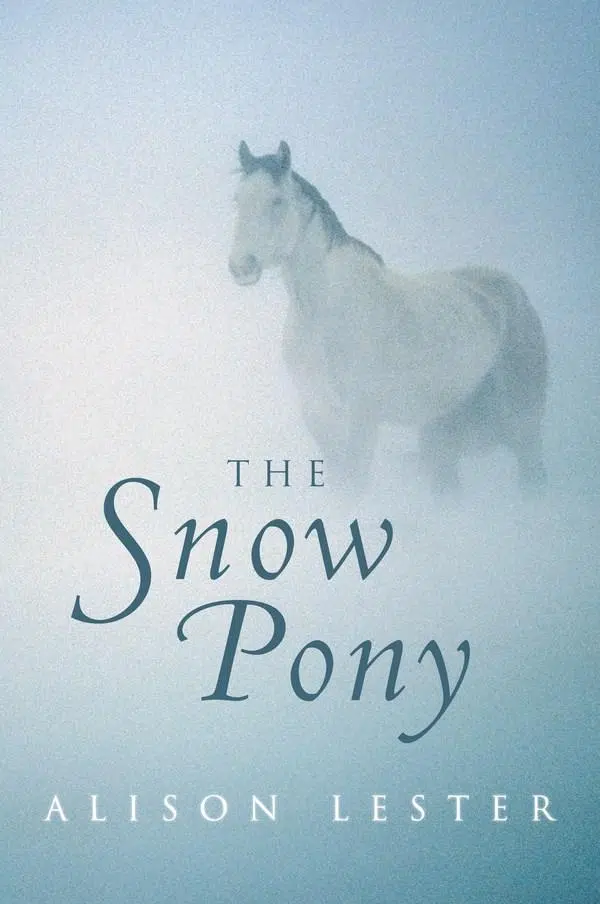 'For Sale or Swap' written by Alyssa Brugman. Ages 9+. Like Alison Lester, Alyssa is a horse owner and a rider and I really cannot emphasise the difference this makes to the stories! This series by is just lovely and a perfect read for young people who are desperate for their own horse – whether that dream is to be realised or not! Main character Shelby is convinced her reliable but ugly pony, Blue, is holding her back at Pony Club. If only she had a beautiful horse, everyone would see what a great rider she is. But how can Shelby buy a new horse when her parents can't even afford to pay her Pony Club fees? When she sees an ad for an eye-catching brown pony for sale or swap, Shelby thinks she's found the answer to all her problems. Maxshine Celtic Copper – otherwise known as Brat – seems perfect. But swapping a pony who's your best friend for a highly strung horse whose beautiful brown coat washes out with shampoo turns out to be a really bad idea.
The others in this series are below.
'Warhorse' written by Michael Morpurgo. Ages 11+. What can I say? Seriously…read it…with a big box of tissues. Most people will know the outline of this story and many will have seen the movie of stage adaptation but the book is so worth reading. In 1914, Joey, a beautiful bay-red foal with a distinctive cross on his nose, is sold to the army and thrust into the midst of the war on the Western Front. With his officer, he charges toward the enemy, witnessing the horror of the battles in France. But even in the desolation of the trenches, Joey's courage touches the soldiers around him and he is able to find warmth and hope. But his heart aches for Albert, the farmer's son he left behind. Will he ever see his true master again?
'The Horses Didn't Come Home' written by Pamela Rushby. Ages 11+.  The last great cavalry charge in history took place at Beersheba in the Sinai Desert in 1917. It was Australian soldiers and horses that took part in, and won, this amazing, unexpected, unorthodox victory. The men proudly claimed it was their great-hearted horses that won the day. But in the end, the horses didn't come home. You can read more about Pamela Rushby here.
'Battle of the Jade Horse' written by Alison Lloyd. Ages 11+. Far from the capital a group of bandits challenge the Emperor's rule. At stake are hundreds of priceless war horses and the power of the mighty Chinese empire. Even best friends, Hu and Ren, find themselves on opposite sides, torn apart by family loyalties. Ren and Hu must make terrible choices that could destroy them all…Or can they overcome all odds and find a way to bring peace to northern China? You can read more about Alison Lloyd here.
'Black Beauty' by Anna Sewell. Ages 10+. Eeep! I forgot to add this one in! Megan from Instagram reminded me! #blondemoment. '… we call them dumb animals, and so they are, for they cannot tell us how they feel, but they do not suffer less because they have no words.' When his beloved owners are forced to sell him, BLACK BEAUTY leaves his life as a young, care-free colt behind him and embarks on a working life of misery. Cruelly treated by his new masters, Anna Sewell rails against animal mistreatment in this poignant tale of a horse whose spirit can not be broken.
'Loyal Creatures' written by Morris Gleitzman. Ages 10+. Likewise…Megan from Instagram THANK YOU! I only just finished reading this one and it was what prompted me to do this list…and then I forgot this title. How.Could.I. Loyal Creatures is the deeply moving story of war horse Daisy and her 16-year-old owner Will, sent from the Australian outback to the gruelling Middle Eastern campaign of the First World War. Their skill in finding water is vital to their regiment in the desert, but their devotion to each other is what keeps them alive in an overwhelmingly hostile environment. Is their unwavering loyalty enough to determine their destiny? The story was inspired by Michael Morpurgo's international bestseller War Horse and is closely based on historical record. Morris Gleitzman is the author of the highly acclaimed war novels Once, Then, Now and After.
 'The Horse and Pony Creativity Book' by Andrea Pinnington. Ages 5+. For a bit of pure fun! Get out your colouring pens for eighty pages packed with puzzles, quizzes, mazes, things to colour in and games to play. The Horse and Pony Creativity Book includes two sticker sheets plus a large gatefold sticker scene, stencils for drawing, a press-out model and beautiful decorated craft paper.
Support one of favourite local (and online) bookstores in Brisbane, 'Where the Wild Things Are'/'Avid Reader' by purchasing through the link below. If you are local to Brisbane you can order online and pick up in-store.