Inscribing Children's Book Gifts
Click on title links to purchase.
The first gift that was given to me when I had PudStar eight years ago was 'Puffling'.
It was given to me by the wonderfully talented Trish Buckley. I cried immediately on opening and reading the inscription. Okay I had just had a baby, hadn't slept for about three days and the baby wouldn't stop crying, but I still tear up every time I read her inscription. 'Puffling' is a gorgeous book to give as a 'Welcome to the World' present and is on my list of books to give to babies.  My most recent book for baby purchase was 'Imagine You're a Pirate', along with a pirate hat from here, for a baby who was born on 'International Talk Like A Pirate Day'- September19th. Yes there is such a thing as talk like a pirate day and I only knew this because the new dad seemed uber excited to claim this as an auspicious date! Pirate books for newborns!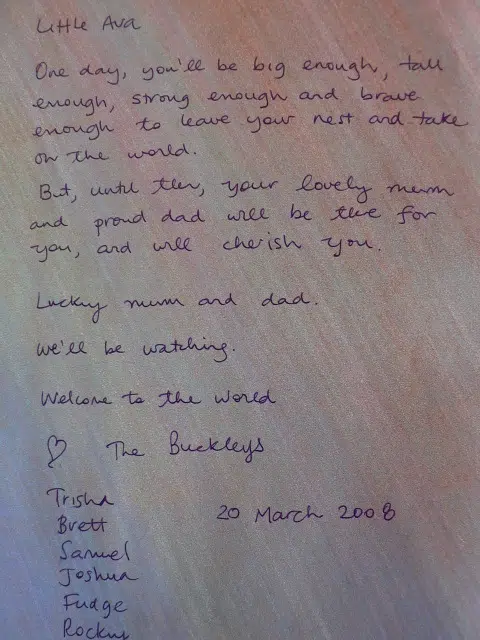 I have many books from my own childhood, and the ones I have kept are the ones which are inscribed to me personally. It's so lovely to see the dates and remember who gave them to us. I have all my old 'Miffy' books and each has name written by mum, with the year they were purchased (librarian much?). Mum still writes in all the books she gives to her five granddaughters, except now she has gone upmarket with a sticker which has space for the child's name, and says 'a book gift from Nonna and Papa'.
You've no idea how much I love seeing these inscriptions from…hmmmm…SOME TIME AGO.
Honest to goodness, Trish writes THE best inscriptions doesn't she? Look at this one:
Support one of favourite local (and online) bookstores in Brisbane, 'Where the Wild Things Are'/'Avid Reader' by purchasing through the link below. If you are local to Brisbane you can order online and pick up in-store.